WELCOME TO THE EXTENDED DAY PROGRAM
CHILDREN IN GRADES K-6
Program Hours:  Before School 7:00AM - 8:30AM
                              After School   3:20PM - 6:00PM
The Nutley School District Extended Day Program is designed to address the intellectual, social/emotional and physical needs of our students to help them feel good about themselves, and be able to express their feelings in a positive and constructive manner.
As an extension to the program, students will be offered enrichment activities in which they will explore and expand upon individual skills and talents in a safe and supportive environment.
For more information about the program please access the Parent Handbook. 
1. Go to myschoolbucks.com to create an account and add your student(s). You may already have an account, therefore, skip this step.
2. Visit MSBactivities.com to log in with your MySchoolBucks username and password. 
3. Pick your program and complete your registration. 
4. You will receive alerts when program fees are due and can quickly pay through MySchoolBucks.
Rates for the 2021-2022 School Year are as follows: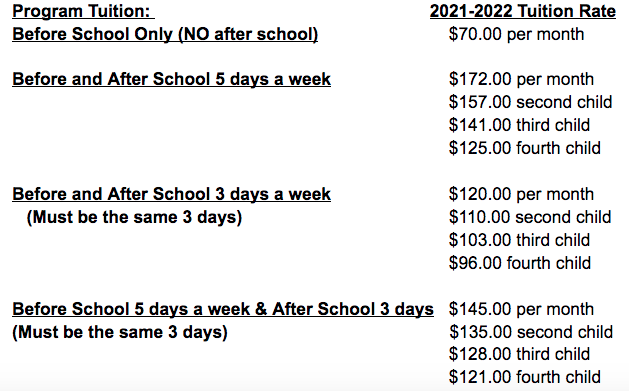 ONE TIME REGISTRATION FEE- $27.00
TO AVOID A $27.00 FEE REQUESTS FOR CHANGES REQUIRE TWO WEEKS NOTICE
EXTENDED DAY WILL ONLY ALLOW ENTRY INTO PROGRAM BEGINNING EACH MONTH OF THE SCHOOL CALENDAR. NO MID-MONTH ENTRY WILL BE PERMITTED. FAMILIES MUST PAY FOR ENTIRE MONTH. RATES WILL NOT BE ADJUSTED FOR ATTENDANCE, SCHOOL CLOSURES, OR PLANNED BREAKS. 
All payments and registration for the extended day program should be made through the www.myschoolbucks.com website. Payments will not be accepted at the schools or the extended day office. Payments should be made monthly no later than 5 days prior to the next month. Please note, when payment is made, there is a box to check if there is a change in your child's extended day schedule.
If you have any questions please contact the Extended Day Administrator.
Antoinette Frannicola- ajfrannicola@nutleyschools.org 
Nutley Public Schools
315 Franklin Avenue
Nutley, NJ 07110
973-320-8504