WELCOME TO THE EXTENDED DAY PROGRAM
CHILDREN IN GRADES K-6
Program Hours:  Before School 7:00AM - 8:30AM
                              After School   3:20PM - 6:00PM
The Nutley School District Extended Day Program is designed to address the intellectual, social/emotional and physical needs of our students to help them feel good about themselves, and be able to express their feelings in a positive and constructive manner.
As an extension to the program, students will be offered enrichment activities in which they will explore and expand upon individual skills and talents in a safe and supportive environment.
For more information about the program please access the Parent Handbook. 
Registration for the 2022-2023 school year will open 
Tuesday, August 2nd.
Please note registration for the 2022-2023 Extended Day Program will open on Tuesday, August 2nd.  It will remain open until Wednesday, August 31st. After August 31, registrations will not be accepted for the month of September. If you plan to enroll your child after the start of the school year, registration will re-open September 15th.  

How to Register:
Please visit www.msbactivities.com
For existing students: Please log in with the same username and password used last school year. 
For Kindergarten Students and Students New to the district: First, create a My School Bucks account by visiting www.myschoolbucks.com. 
After account is set up, log on to www.msbactivities.com and sign in with the same username and password created for My School Bucks.
Once registration has been accepted you will receive an invoice 24hrs later in your My School Bucks account.
Rates for the 2022-2023 School Year are as follows: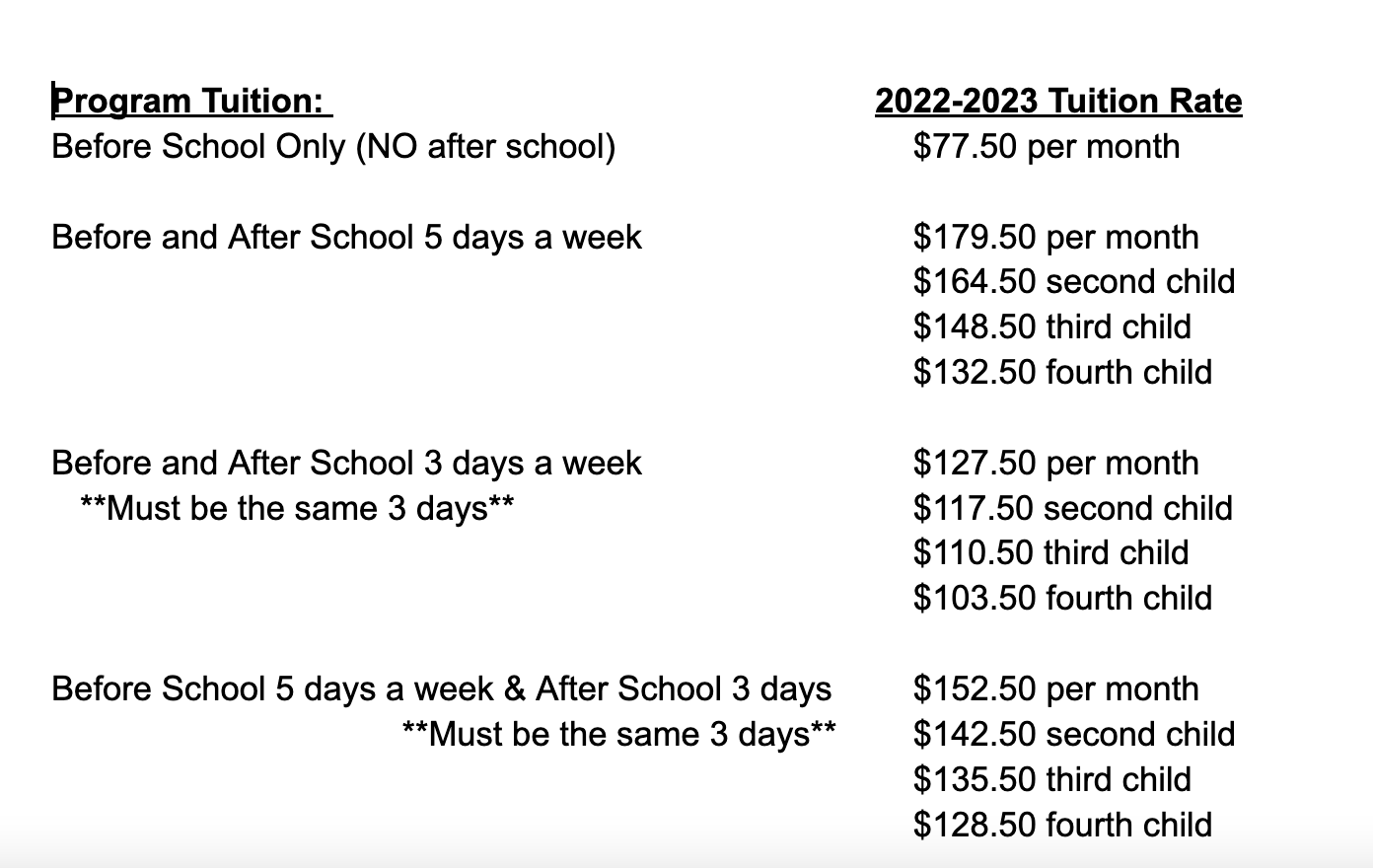 We are asking that everyone enroll in Auto Pay. 
Failure to set up Auto Pay may result in removal from the program.  
ONE TIME REGISTRATION FEE- $27.00
TO AVOID A $27.00 FEE REQUESTS FOR CHANGES THROUGHOUT THE YEAR REQUIRE TWO WEEKS NOTICE.
EXTENDED DAY WILL ONLY ALLOW ENTRY INTO PROGRAM BEGINNING EACH MONTH OF THE SCHOOL CALENDAR. NO MID-MONTH ENTRY WILL BE PERMITTED. FAMILIES MUST PAY FOR ENTIRE MONTH. RATES WILL NOT BE ADJUSTED FOR ATTENDANCE, SCHOOL CLOSURES, OR PLANNED BREAKS. 
All payments and registration for the extended day program should be made through the www.myschoolbucks.com website. Payments will not be accepted at the schools or the extended day office. Payments MUST be AUTOMATIC.
If you have any questions please contact the Extended Day Administrator.
Antoinette Frannicola- ajfrannicola@nutleyschools.org 
Nutley Public Schools
315 Franklin Avenue
Nutley, NJ 07110
973-661-8845